Posts for: November, 2019
By The Smile Shack
November 16, 2019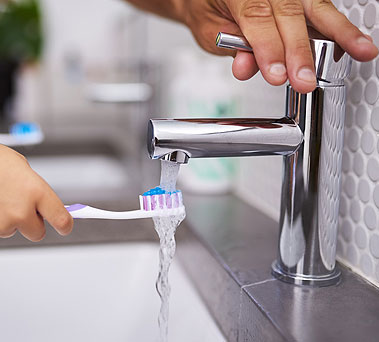 The U.S. Centers for Disease Control and Prevention calls it "one of the ten most important public health measures of the 20th Century." A new vaccine? A cure for a major disease? No—the CDC is referring to the addition of fluoride to drinking water to prevent tooth decay.
Fluoride is a chemical compound found in foods, soil and water. Its presence in the latter, in fact, was key to the discovery of its dental benefits in the early 20th Century. A dentist in Colorado Springs, Colorado, whose natural water sources were abundant with fluoride, noticed his patients' teeth had unusual staining but no tooth decay. Curious, he did some detective work and found fluoride in drinking water to be the common denominator.
By mid-century, fluoride was generally recognized as a cavity fighter. But it also had its critics (still lively today) that believed it might also cause serious health problems. Ongoing studies, however, found that fluoride in tiny amounts—as small as a grain of sand in a gallon of water—had an immense effect strengthening enamel with scant risk to health.
The only condition found caused by excess fluoride is a form of tooth staining called fluorosis (like those in Colorado Springs). Fluorosis doesn't harm the teeth and is at worst a cosmetic problem. And it can be avoided by regulating the amount of ingested fluoride to just enough for effectively preventing tooth decay.
As researchers have continued to learn more about fluoride, we've fine-tuned what that amount should be. The U.S. Public Health Service (PHS), which sets standards for fluoride in drinking water, now recommends to utilities that fluoridate water to do so at a ratio of 0.7 mg of fluoride to 1 liter of water. This miniscule amount is even lower than previous recommendations.
The bottom line: Fluoride can have an immense impact on your family's dental health—and it doesn't take much. Excessive amounts, though, can lead to dental staining, so it's prudent to monitor your intake. That means speaking with your dentist about the prevalence of fluoride in your area (including your drinking water) and whether you need to take measures to reduce (or expand) your use of it.
If you would like more information on how best fluoride benefits your family's dental health, please contact us or schedule an appointment for a consultation. You can also learn more about this topic by reading the Dear Doctor magazine article "Fluoride & Fluoridation in Dentistry."
By The Smile Shack
November 06, 2019
Whether she's singing, dancing or acting, Jennifer Lopez is a performer who is known for giving it all she's got. But during one show, Lopez recently admitted, she gave a bit more then she had planned.
"I chipped my tooth on stage," she told interviewers from Entertainment Tonight, "and had to finish the show….I went back thinking 'Can I finish the show like this?'"
With that unlucky break, J-Lo joins a growing list of superstar singers—including Taylor Swift and Michael Buble—who have something in common: All have chipped their teeth on microphones while giving a performance.
But it's not just celebs who have accidental dental trouble. Chips are among the most common dental injuries—and the front teeth, due to their position, are particularly susceptible. Unfortunately, they are also the most visible. But there are also a number of good ways to repair chipped, cracked or broken teeth short of replacing them.
For minor to moderate chips, cosmetic bonding might be recommended. In this method, special high-tech resins, in shades that match your natural teeth, are applied to the tooth's surface. Layers of resin, cured with a special light, will often restore the tooth to good appearance. Best of all, the whole process can often be done in just one visit to the dental office, and the results can last for several years.
For a more permanent repair—or if the damage is more extensive—dental veneers may be another option. Veneers are wafer-thin shells that cover the entire front surface of one or more teeth. Strong, durable and natural-looking, they can be used to repair moderate chips, cracks or irregularities. They can also help you get a "red-carpet" smile: brilliant white teeth with perfectly even spacing. That's why veneers are so popular among Hollywood celebs—even those who haven't chipped their teeth!
Fortunately, even if the tooth is extensively damaged, it's usually possible to restore it with a crown (cap), a bridge—or a dental implant, today's gold standard for whole-tooth replacement. But in many cases, a less complex type of restoration will do the trick.
Which tooth restoration method did J-Lo choose? She didn't say—but luckily for her adoring fans, after the microphone mishap she went right back up on stage and finished the show.
If you have a chipped tooth but you need to make the show go on, please contact us or schedule an appointment for a consultation. You can also learn more by reading the Dear Doctor magazine articles "Artistic Repair of Chipped Teeth With Composite Resin" and "Porcelain Veneers."