Posts for: February, 2021
By The Smile Shack
February 18, 2021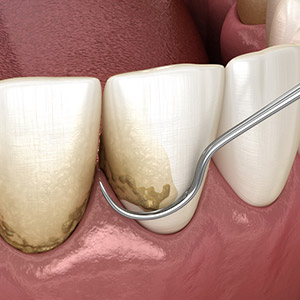 We all benefit from regular dental care, regardless of our state of oral health. But if you've experienced periodontal (gum) disease, those regular dental visits are even more important in making sure your healed gums stay that way.
Gum disease is a bacterial infection caused by dental plaque, a thin film of bacteria and food particles accumulating on tooth surfaces. The infection triggers inflammation in the gums that quickly becomes chronic. That's why people with gum disease have reddened and swollen gums that bleed easily.
The infection can aggressively spread deeper below the gum line, eventually affecting the bone. The combination of weakened gum detachment from the teeth and bone loss may ultimately cause tooth loss. But we can stop the infection by thoroughly removing all plaque and tartar (hardened plaque) from the teeth and gums. As the plaque is removed, the gums respond and begin to heal.
It's possible then even with advanced gum disease to restore health to your teeth and gums. But although the infection has been arrested, it can occur again. In fact, once you've had gum disease, your susceptibility for another infection is much greater. To stay on top of this, you may need to visit the dentist more frequently.
These upgraded visits known as periodontal maintenance (PM) are actually a continuation of your treatment. Depending on the extensiveness of your gum disease, we may need to see you more than the standard twice-a-year visits: Some periodontal patients, for example, may need a visit every two to three months. Again, the state of your gum health will determine how often.
In addition to standard dental cleanings and checkups, PM visits will also include more thorough examination of the teeth and gums, particularly the health of the tooth roots. We'll also check how well you're doing with daily plaque removal and if there are any signs of gum infection. We may also prescribe medication, rinses or topical antibiotics to help control your mouth's levels of bacteria.
A patient's periodontal "maintenance schedule" will depend on their individual condition and needs. The key, though, is to closely monitor gum health for any indications that another infection has set in. By staying alert through dedicated PM, we can stop a new infection before it harms your dental health.
If you would like more information on gum disease, please contact us or schedule an appointment for a consultation. You can also learn more about this topic by reading the Dear Doctor magazine article "Periodontal Cleanings."
By The Smile Shack
February 08, 2021

If you're intrigued by the strange and bizarre, here's one to pique your interest: geographic tongue. It's a rare condition that causes the appearance of red patches on the tongue surface, surrounded by grayish-white borders, and which look a lot like continents on a map (hence the name). But although it may look odd, geographic tongue won't harm your health.
The condition is also known as benign migratory glossitis, so named because it's not cancerous and the patches seem to move or "migrate" around the tongue surface. The most common causes are thought to be stress or hormonal disruptions in those predisposed to the condition. Many researchers believe zinc or vitamin B deficiencies in the body contribute to its occurrence. It also seems more prevalent among non-smokers and pregnant women, as well as occurring as a family trait.
The red patches are created by the temporary disappearance of some of the papillae, tiny bumps on the tongue's top surface. The patches can abruptly appear during a flareup and then disappear just as suddenly. But as "angry" as the patches may look, geographic tongue is not considered a health danger. It isn't normally painful, although people can experience stinging or numbing sensations emanating from the patches that can be mildly uncomfortable.
Because it's also rare, you're not likely to encounter it personally. But if you or a loved one does begin to notice red patches on the tongue, there are a few things you can do to lessen any accompanying irritation. For one, cut out foods like tomatoes, citrus fruits, eggplant, mint or highly spicy or acidic foods, all of which have been known to increase discomfort. You might also avoid astringents like alcohol or mouthwashes that likewise irritate the patches when they occur.
Although geographic tongue can't be cured, your dentist can help you manage symptoms when they arise with the help of prescribed anesthetic mouthwashes, antihistamines or steroid lozenges. These not only can help lower any discomfort or irritations, they may also lessen the duration of a flareup.
For the most part, geographic tongue usually causes more embarrassment than physical discomfort. But with a little help from your dentist, you can keep it to a minimum. Geographic tongue may be odd, but it's nothing to worry about.
If you would like more information on geographic tongue, please contact us or schedule an appointment for a consultation. You can also learn more about this topic by reading the Dear Doctor magazine article "Geographic Tongue: No Cause For Alarm."