Posts for tag: Dentures
By The Smile Shack
November 01, 2018
If you've had the misfortune of losing all or most of your teeth (a condition called edentulism), you still have effective options for restoring lost form and function to your mouth. There is, of course, the traditional removable denture that's been the mainstay for edentulism treatment for decades. If you haven't experienced significant bone loss in the jaw, though, a fixed bridge supported by titanium implants could be a better choice.
But what if bone loss has ruled out an implant-supported fixed bridge? There's still another option besides traditional dentures — a removable "overdenture" that fits "over" smaller diameter implants strategically placed in the jaw to support it.
A removable, implant-supported bridge offers a number of advantages for edentulism patients with significant bone loss.
Speech Enhancement. Any denture or bridge supported by implants will have a positive impact on speech ability, especially involving the upper jaw. But patients who've previously worn removable dentures may not see a dramatic difference but will still be able to benefit from the greater stability of the denture, particularly if the dentures were previously unstable.
Hygiene. A removable denture allows better access to implant sites for cleaning. Better hygiene reduces the risk of gum disease and further bone loss.
Long-Term Maintenance. Regardless of which type of implant supported restoration is used, it will eventually require some maintenance. A well-designed removable overdenture can make any future maintenance easier to perform.
Aesthetics. For personal satisfaction, this is often the ultimate test — how will I look? As a product of the evolving art of facial aesthetics, removable dentures supported by implants can replace lost tissues and restore balance to the face, and often produce a remarkable smile "makeover."
To find out which restoration option is best for you, you should first undergo a thorough examination to determine the status of your facial and jaw structures, particularly the amount of bone mass still present. Ultimately, though, the decision should be the one that best fits your functional needs, while fulfilling your desires for your future smile.
If you would like more information on tooth restoration options, please contact us or schedule an appointment for a consultation. You can also learn more about this topic by reading the Dear Doctor magazine article "Fixed vs. Removable: Choosing Between a Removable Bridge and a Fixed Bridge."
By The Smile Shack
November 23, 2015
For people with edentulism (total loss of teeth), removable dentures is a viable option for regaining both lost function and an attractive appearance. From the moment they begin wearing them, denture wearers can chew food, speak and smile with confidence.
But there are downsides to dentures, especially if they're not cared for properly. Dentures put pressure on the gums and bony ridges of the jaw, which can cause bone to dissolve (resorb) and decrease its volume over time. Without proper maintenance they can also become a breeding ground for bacteria and fungi that not only lead to bad breath but, in cases of partial dentures, can increase the risk of dental disease. They could also contribute to serious systemic diseases.
You can reduce some of these risks by following these 3 important denture maintenance tips. Doing so will help extend the life of your dentures, as well as keep your mouth healthy.
Clean your dentures at least once a day. In addition to taking your dentures out and rinsing them with water after eating, you should also brush them daily with dish detergent, antibacterial soap or denture cleaner — but not toothpaste, which is too abrasive. Effervescent (fizzing) cleaning tablets also aren't a viable substitute for manual brushing in removing disease-causing plaque from denture surfaces.
Take your dentures out at night while you sleep. Wearing dentures 24/7 can hasten bone loss, as well as increase your chances of dental disease or even more serious illnesses. A recent study, for example, found nursing home patients who left their dentures in at night were twice as likely to experience serious complications from pneumonia as those who didn't. While you sleep, store your dentures in water or in a solution of alkaline peroxide made for this purpose.
Brush your gums and tongue every day. Keeping your gum surfaces clean will help reduce the levels of bacteria and other microbes that can cause disease. You can either use an extra-soft tooth brush (not the one you use to clean your dentures) or a damp washcloth.
If you would like more information on caring for dentures, please contact us or schedule an appointment for a consultation.
By The Smile Shack
October 01, 2015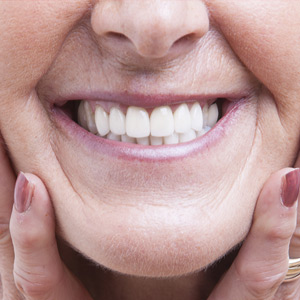 You probably can't remember a time without your teeth — and can't imagine life without them. But now it's a reality: one by one your teeth have become casualties in a long-standing war with dental disease until now they're all lost.
Total tooth loss (edentulism) can be difficult in more ways than the loss of function — it can be psychologically traumatic as you must now transition from natural teeth to dentures or other restorations. To add to the stress, you probably won't be able to obtain your permanent restoration immediately because the extraction sites must heal.
To help you with this transition and provide a means for you to have teeth during the healing period, we may fit you with an appliance known as an immediate denture. With these temporary teeth replacements, you can maintain your smile appearance, chew food and speak unimpaired.
Initially, immediate dentures should fit well, but over time your gums will tend to shrink as they heal. This can loosen the dentures' fit and make them uncomfortable to wear. If the healing process is still ongoing and you still need to wear the immediate dentures, they can be relined with more denture material to fine-tune the fit.
At some point, though, we must consider creating a new, permanent set of dentures. When your mouth is fully healed, we can make a more accurate impression that we can then use to construct your new set. There are also other options, such as using dental implants to support a denture or a fixed bridge. This option will only be possible, however, if you have sufficient bone available to fully support it, which we might also be able to augment with grafting.
Immediate dentures serve a worthwhile purpose, but only for a temporary period. We'll be happy to discuss all your options with you to help you find the right permanent solution that fits both your mouth's condition and your financial ability.
If you would like more information on transitioning to teeth replacement, please contact us or schedule an appointment for a consultation. You can also learn more about this topic by reading the Dear Doctor magazine article "Immediate Dentures."