Posts for tag: Flossing
By The Smile Shack
December 11, 2018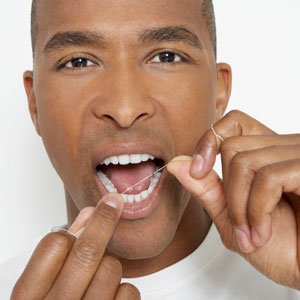 A couple of years ago the Associated Press published an article claiming the health benefits of flossing remained unproven. The article cited a number of studies that seemed to conclude the evidence for the effectiveness of flossing in helping to prevent dental disease as "weak."
As you can imagine, dental providers were a bit chagrined while flossers everywhere threw away their dental floss and happily declared their independence from their least favorite hygiene task. It would have seemed the Age of Flossing had gone the way of the dinosaurs.
But, the demise of flossing may have been greatly exaggerated. A new study from the University of North Carolina seems to contradict the findings cited in the AP article. This more recent study looked at dental patients in two groups—those who flossed and those who didn't—during two periods of five and ten years respectively. The new study found conclusively that the flosser group on average had a lower risk of tooth loss than the non-flossers.
While this is an important finding, it may not completely put the issue to rest. But assuming it does, let's get to the real issue with flossing: a lot of people don't like it, for various reasons. It can be time-consuming; it can be messy; and, depending on a person's physical dexterity, difficult to perform.
On the latter, there are some things you can do to make it a less difficult task. You can use a floss threader, a device that makes it easier to thread the floss through the teeth. You can also switch to an oral irrigator or "water flosser," a pump device that sprays a fine, pressurized stream of water to break up plaque between teeth and flush most of it away. We can also give you tips and training for flossing with just your fingers and thread.
But whatever you do, don't give up the habit. It may not be your most favorite hygiene task but most dentists agree it can help keep your teeth healthy for the long-term.
If you would like more information on the benefits of flossing, please contact us or schedule an appointment for a consultation.
By The Smile Shack
September 01, 2016
At The Smile Shack we love giving advice to help you keep your teeth and gums health! We also like to follow the model of successful people in other avenues of life. Today, we thought we would veer off a little bit from dentistry and share with you seven daily habits that some of the most successful executives in the country swear by to give them "an edge." Read forth!
1. Do Your "Must-Dos" first! - Niki Leondakis, CEO of Commune Hotels and Resorts, suggests getting your most important phone calls, emails and meetings completed first thing in the morning so you can more easily concentrate on giving everyone else your full attention for the rest of the day.
2. Turn It Off During Family Time - Turning off cell phones and not looking at email helps. Xander Oxman, founder of Club W Wine, gets a sense of balance and perspective when he is fully present his wife and kids.
3. Stand! - Recent research has shown that sitting all day can be bad for our health, and Karen Leland, founder of Sterling Marketing Group, is a big believer! She states that standing 15 minutes of each hour increases her energy level significantly.
4. Expand Your Network - Lou Desopoli, founder and CEO of Desopoli Wealth Management, makes it a point to make a new contact every single day, whether through personal interaction or social media.
5. Make A Prioritized To-Do List - Brett King, SVP of Elite Financial Associates, makes a to-do list each morning and grades the tasks A through D, according to their importance, tackling the "A's" first and so on. This guarantees accomplishing priority items instead of shooting from the hip all day.
6. Accentuate The Positive - Most of our news is filled with negativity and tragedy, so reading something positive each day, whether on the Internet, in a book, newspaper, etc., helps Cody Foster, co-founder of Advisors Excel, set the right tone every day.
7. Floss Every Night! (Ahh...you knew there was a reason we were doing this!) Dentovations CEO Damon Brown says, "It has been proven that there is a direct link between flossing and one's overall health. And the healthier you are, the more productive you are in both your personal and professional life. It is one of the easiest things you can do to maintain a healthy lifestyle.
We couldn't agree more!
By The Smile Shack
November 19, 2014
You've probably brushed your teeth every day since early childhood when your parents handed you your first toothbrush. But do you really know if you're doing it effectively and removing disease causing bacterial plaque or biofilm? Let's take a look at the basics of tooth brushing.
What is the goal of brushing and flossing your teeth? While it is true that brushing your teeth freshens your breath and removes stains from the surfaces of your teeth, the principal goal of tooth brushing is to remove dental bacterial plaque. This biofilm grows in the nooks and crannies of your teeth, and especially at the gum line — regardless of what you eat or drink. If left on your teeth, this bacterial film can cause gingivitis (inflammation of your gums). It can progress to periodontal disease, affecting the supporting bone of your teeth and even result in tooth loss. This means that flossing should also be an important part of your daily dental hygiene routine to remove plaque from the protected areas between your teeth.
Can you actually brush too much? More is not always better and can be damaging. We advise you to use a soft brush and to brush gently. It does not take force to remove plaque, and using a toothbrush too vigorously can damage your gums and cause them to recede (shrink away from your teeth), causing sensitivity and tooth wear. It takes between 12 and 24 hours for plaque to form on your teeth, so you don't need to brush more than twice a day and floss once a day.
How do you know when you've done a good job? A good test is that your teeth should feel like you've just had a professional cleaning. Your tongue is a great evaluator — just feel for smoothness at the gum line.
Is a powered toothbrush better than a manual one? An evidence-based study comparing all the research available found little difference between power and manual toothbrushes. The conclusion was that some powered toothbrushes with a rotation-oscillation action achieve a modest reduction in plaque and gingivitis compared to manual toothbrushes. But as we say, "it's not the brush, it's the hand that holds it."
Come to our office for a demonstration. Any brush, whether electric or hand-powered, requires professional demonstration and training so that you know how to remove plaque correctly. Bring your toothbrush with you on your next visit to our office, so we can see your brushing technique and make sure you are doing it correctly for the most efficient plaque removal. And don't be embarrassed — nobody really knows how to brush effectively until they're shown!
Contact us today to schedule an appointment or to discuss your questions about tooth brushing and oral hygiene. You can also learn more by reading the Dear Doctor magazine article "Manual vs Powered Toothbrushes."