Posts for: March, 2015
By The Smile Shack
March 25, 2015
What would it take to get you to give up tobacco? For major league baseball player Addison Reed, it took the death of his former coach, Tony Gwynn. Gwynn, a Hall-of-Famer who played for the San Diego Padres in addition to coaching at San Diego State, was just 54 years old when he died of oral cancer. As soon as Reed heard the sad news, the Arizona Diamondbacks' relief pitcher says he knew what he needed to do: He took every can of smokeless tobacco he owned and dumped them all in the trash.
"It's just become a habit, a really bad habit," Reed told an interviewer at MLB.com. "It was something I always told myself I would quit." But quitting took him many years — in fact, Reed admitted that he first started using smokeless tobacco as a junior in high school.
People begin using tobacco — in the form of cigarettes, cigars, pipes, or smokeless types (snuff, chewing tobacco, or dip) — for a variety of reasons. One major draw is that they see others doing it. And, while smoking is prohibited in most all Major League venues, the use of smokeless tobacco has remained fairly widespread.
Smokeless tobacco isn't a safe alternative to cigarettes. According to the National Cancer Institute, it contains 28 carcinogenic agents. It increases the risk not only for oral and pancreatic cancer, but also for heart disease, gum disease, and many other oral problems. It's also addictive, containing anywhere from 3.4 to 39.7 milligrams of nicotine per gram of tobacco — and its use has been on the rise among young adults.
But now the tide may be turning. After Addison Reed's announcement, his former college teammate Stephen Strasburg (now a pitcher for the Washington Nationals) resolved that he, too, would give up tobacco. "[The] bottom line is, I want to be around for my family," said Strasburg. Mets left-hander Josh Edgin has vowed to try quitting as well. It's even possible that Major League Baseball will further restrict the use of smokeless tobacco at games.
What does this mean for you? It may just be the opportunity you've been waiting for… to stop using tobacco. Dentists have seen how quickly oral cancer can do its devastating work — and we can help you when you're ready to quit. The next time you come in for a checkup, ask us how. Your teeth and gums will thank you — and your family will too.
By The Smile Shack
March 10, 2015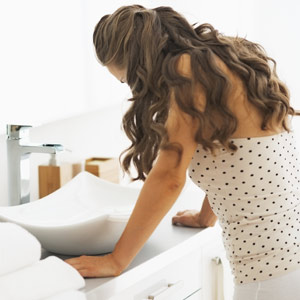 While most dental problems are caused by disease or trauma, sometimes the root problem is psychological. Such is the case with bulimia nervosa, an eating disorder that could contribute to dental erosion.
Dental erosion is the loss of mineral structure from tooth enamel caused by elevated levels of acid in the mouth, which can increase the risk for decay and eventual tooth loss. While elevated acid levels are usually related to inadequate oral hygiene or over-consumption of acidic foods and beverages, the practice of self-induced vomiting after food binging by bulimic patients may also cause it. Some of the strong stomach acid brought up by vomiting may remain in the mouth afterward, which can be particularly damaging to tooth enamel.
It's often possible to detect bulimia-related erosion during dental exams. The bottom teeth are often shielded by the tongue during vomiting, so erosion may be more pronounced on the unshielded upper front teeth. The salivary glands may become enlarged, giving a puffy appearance to the sides of the face below the ears. The back of the mouth can also appear red and swollen from the use of fingers or objects to induce vomiting.
Self-induced vomiting may not be the only cause for dental erosion for bulimics. Because the disorder causes an unhealthy focus on body image, bulimics may become obsessed with oral hygiene and go overboard with brushing and flossing. Aggressive brushing (especially just after throwing up when the tooth enamel may be softened) can also damage enamel and gum tissue.
Treatment must involve both a short — and long-term approach. Besides immediate treatment for dental erosion, a bulimic patient can minimize the effect of acid after vomiting by not brushing immediately but rinsing instead with water, mixed possibly with a little baking soda to help neutralize the acid. In the long-term, though, the eating disorder itself must be addressed. Your family doctor is an excellent starting point; you can also gain a great deal of information, both about eating disorders and treatment referrals, from the National Eating Disorders Association at their website, www.nationaleatingdisorders.org.
The effects of bulimia are devastating to mental and physical well-being, and no less to dental health. The sooner the disorder can be treated the better the person's chance of restoring health to their mind, body — and mouth.
If you would like more information on the effect of eating disorders on oral health, please contact us or schedule an appointment for a consultation. You can also learn more about this topic by reading the Dear Doctor magazine article "Bulimia, Anorexia & Oral Health."